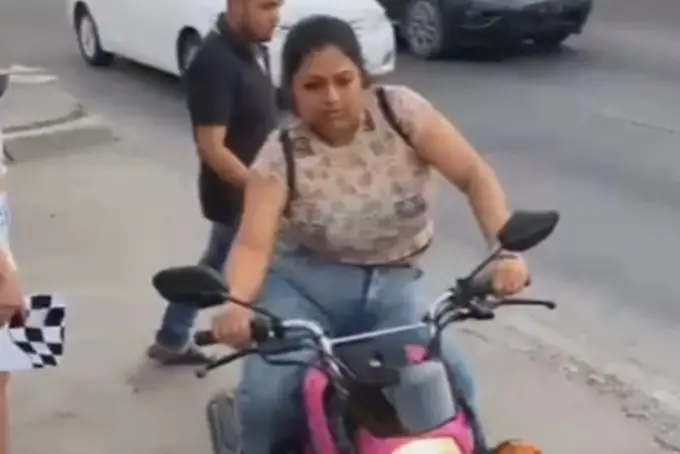 Mariali Hernández, an enthusiastic and adventurous woman, decided to fulfill her dream of becoming a motorcyclist and purchased a brand new bike. Filled with excitement and unable to contain her happiness, Mariali set out to have her first ride on her new acquisition recorded.
However, the adrenaline proved to be too much for Mariali, who got carried away in the thrill of the moment. Just five seconds after starting, the protagonist of this story lost control of her bike and crashed spectacularly into a nearby tree.
The incredible part is that everything was captured on a phone. Within seconds, the video went viral on TikTok, sparking laughter and comments among users.
The hilarious scene shows Mariali on her brief journey resembling a "rocket bike" headed straight for nature. Her expression of surprise and the background sound of contagious laughter from the spectators make this video a true treasure of humor.
Fortunately, Mariali emerged from the accident unharmed, only suffering a few scrapes to her motorcycling pride. She shared the video herself on her social media with the hashtag #5SecondsOfGlory and a brief description: "When you feel invincible, but life reminds you that we all have our shining moment, quite literally, a moment!" Since then, Mariali has gained fame on social media as the "Flash Pilot" and has decided to take her unforgettable debut in the world of motorcycles with a sense of humor. She has even announced that she will share more funny content related to her future adventures.
Undoubtedly, this story teaches us that excessive excitement can lead to unexpected situations, but it also shows us that humor and the ability to laugh at oneself are valuable tools to face life's setbacks.
If you're in the mood for a good laugh, don't hesitate to search for Mariali Hernández's viral video on TikTok. It's guaranteed to make you burst into laughter and think twice before hopping on a bike without experience!