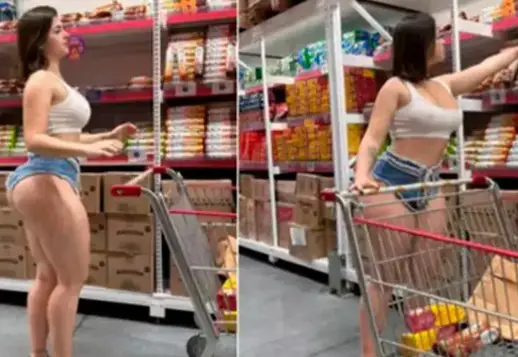 Kerolay Chaves, a renowned model who offers exclusive content on online platforms, has revealed an unfortunate incident in which she was discriminated against and expelled from a supermarket due to her appearance and choice of clothing.
Through her social media channels, Kerolay shared the details of what happened, accompanied by photographs that showed her outfit: a white top with a discreet neckline, tight denim shorts, and sandals.
According to her account, she was accused of "dressing inappropriately" and received prejudiced looks that resulted in her expulsion from the establishment.
The model expressed her surprise and frustration as she believed her clothing did not violate any rules and was appropriate for the circumstances. Through her posts, Kerolay emphasized the importance of not judging people based on their appearance and fighting against discrimination.
This incident has sparked a debate about dress standards and ingrained prejudices in our society. Many of Kerolay's followers have shown solidarity and support, arguing that her expulsion was unfair and based on gender stereotypes.
The situation has also led to reflections on the need to promote acceptance and diversity in public spaces. Social media users have highlighted the importance of implementing inclusive policies and eradicating discrimination based on physical appearance.
So far, the supermarket involved has not issued any official statement regarding the incident. However, it is expected that they will take action to investigate the event and take necessary measures. Kerolay Chaves's experience highlights the importance of promoting equality and respect in all spheres of society. The model hopes that her situation serves as a call for reflection and a fight against gender stereotypes and discrimination.
Furthermore, this story emphasizes the need to foster diversity and acceptance in our society, allowing all individuals to express themselves freely without fear of being unjustly judged.
Kerolay Chaves has demonstrated courage by sharing her experience and has sparked an important debate about individual rights and inclusion in our contemporary society. Her story invites us to reflect on the importance of respecting and valuing diversity in all its forms.